1946 US Walking Liberty Silver Half Dollar 50C PCGS MS67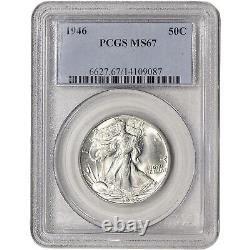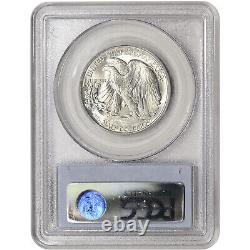 Serving Collectors and Investors for Over 50 Years. 1946 US Walking Liberty Silver Half Dollar 50C - PCGS MS67. 1946 US Walking Liberty Silver Half Dollar 50C Certified PCGS MS67 The Walking Liberty Silver Half Dollar was minted from 1916 to 1947. The coin was designed by Adolph A. Photos are of the actual coin you will receive.
About Walking Liberty Silver Half Dollars The Walking Liberty Half Dollar features one of the most popular and iconic designs within the entirety of American numismatics. The series was introduced in 1916 and minted until 1947, a range of years which included World War I, the Great Depression, and World War II. The bold and confident image of Liberty projected strength and determination to persevere through these tumultuous times.
The series enjoys a strong collector base and includes an array of key and semi-key date coins as well as a brief range of proof issues. The origin of the series can be traced back to President Theodore Roosevelt's discontentment with circulating coin designs and subsequent efforts to elevate American coinage to objects of beauty. By 1916, artistic designs had been adopted for all of the gold denominations, as well as the cent and nickel. These efforts continued even after Roosevelt's presidency, when a public competition was announced to select new designs for the dime, quarter, and half dollar. The winner for both the dime and half dollar was Adolph A.
Weinman, a sculptor born in the south-German city of Karlsruhe in 1870. In the early 1880's, he and his mother immigrated to the United States, after which Weinman became a prominent sculptor in his new country. Before designing the two coins, he had already established a solid reputation, building on his experience as student of Augustus Saint-Gaudens. Obverse Design Weinman's obverse design for the half dollar features the full figure of Liberty wearing a long gown and walking confidently forward. An American flag is draped across her shoulders and billowing around her.
Liberty's right hand is outstretched, while her left holds a bouquet of olive branches. The sun rises from the lower left with its rays emanating into the field. The inscription LIBERTY is widely spaced above, with IN GOD WE TRUST to the right and the date below.
Reverse Design The reverse design features an eagle perched on a rock with its wings raised in a defiant stance. A mountain pine sapling is seen springing from the rock, symbolizing America. The inscription UNITED STATES OF AMERICA appears above, with E PLURIBUS UNUM to the left, and the denomination HALF DOLLAR below. The designer's initials "AW" appear beneath the eagle's right wing. The design of the Walking Liberty Half Dollar is widely recognized as one of the most beautiful in the history of American coinage.
The obverse was chosen to be used on the American Silver Eagle when the bullion and collector coin series was introduced in 1986. The design has been featured on the modern series through the current date without interruption. The Date your Order is placed is considered Day Zero (0). If you need to change the Address you need to cancel your order and place a new order using the correct address. We reserve the right to make Carrier and Service Level selection based upon operating conditions and order size, weight, destination and value.
We are unable to accommodate requests for specific Carriers. We are not responsible for Carrier Delays due to operating issues such as bad weather, mechanical failures, or other service level disruptions. If your package has been Confirmed as Delivered by the Carrier, but you do not believe you received the package, please contact the Carrier directly. Bullion coins, bars and rounds are mass-produced and are not manufactured to the same quality standards as Collector Coins.
Listed prices for bullion products are firm and not negotiable. Prices will change with movements in the spot price of the underlying metal while precious metals markets are open.
When purchasing "Random Brand" items you can expect to receive Brands and Design of our choice, based on inventory on hand when your order is fulfilled. Our inventory is located in a secure location with limited access. We cannot accommodate requests to search for specific Brands.
When purchasing "Random Date" coins, you can expect to receive Dates and Mintmarks of our choice, depending upon current stock on hand. We cannot accommodate requests to search for specific Dates. Pre-Owned Vintage US Mint Products. Except for current year products, nearly all of our US Mint products have been previously owned. Unless otherwise disclosed, all of our US Mint products come with their complete original packaging.
We inspect all pre-owned US Mint products prior to offering them for sale. We only sell sets that have passed our inspection; the coins are typically free of excessive hazing, spotting, or distracting toning.
While these items are typically in very good condition for their age, these vintage products are not new. We typically have multiple quantities available of many of our most popular products.
As a result we often use "Reference Images" to represent the actual product. When a "Reference Image" is used to merchandise a product, that use will be disclosed in the Listing as follows: "The "Reference Images used in this listing Description were created by Liberty Coin for reference only to depict the quality of the item you will receive. You will NOT receive the exact item that was photographed to create the Reference Images. However, the actual item you will receive is guaranteed to be similar to that shown and exactly as described.
Prices and availability of products and services are subject to change without notice. Errors will be corrected when discovered and Liberty Coin LLC reserves the right to revoke any stated offer and to correct any errors, inaccuracies or omissions including after an order has been submitted and whether or not the order has been confirmed.